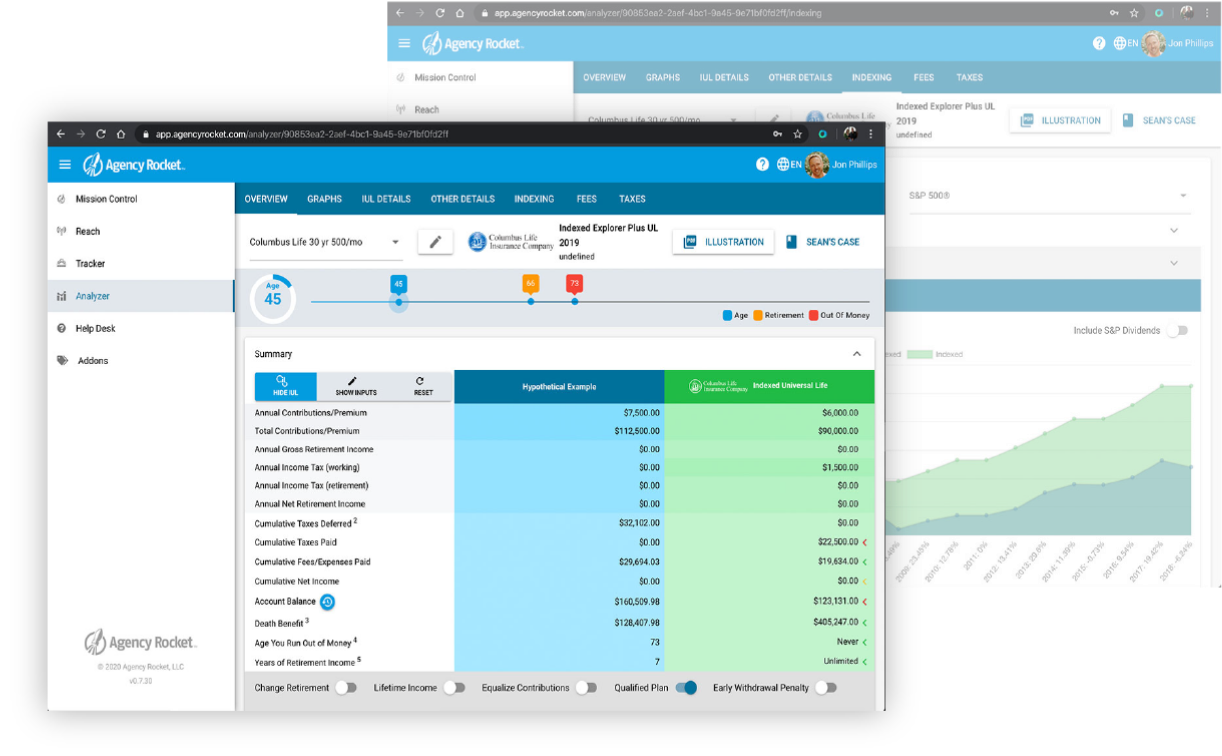 Who is Agency Rocket?
Jon Phillips and his partner needed better software to facilitate the sales process for the agents at their insurance company, so they developed a number of in-house solutions. Seeing a market opportunity, they created Agency Rocket to begin offering these tools to other companies' agents, as SaaS products.
The Challenge
One insurance benefit was notoriously difficult to move through the sales pipeline due to its high complexity. Although the benefit offered tremendous value to clients' retirement planning, agents were reluctant to sell it because of the complicated math and copious paperwork it required - the same challenges that made it difficult to develop a software solution for. The highly manual process also exposed agents to a relatively higher risk of error.
What DBA created for us, I didn't even know it was possible. And I come from the I.T. side of the business!
- Jon Phillips
The Solution
Agency Rocket reached out to DBA and explained the complex problem they were trying to solve. DBA developed a solution that did more than just simplify a complicated process; they completely transformed the process into a unified software solution that could integrate with the top 18 insurance carriers in the industry, while reducing error risk through automation.
Normally, agents would have to search 60-page documents for relevant information to manually copy into a static proposal. DBA's solution allowed agents to simply upload PDF documents that the software then scanned, and generated easy-to-understand proposals, complete with attractive data visualizations. What's more, the proposals were cloud-based interactive documents, allowing clients and prospects to manipulate them remotely, in real time.
The Results
By partnering with DBA, Agency Rocket was able to solve a complex problem with significant impact on agents and clients. Agents are now thrilled to have a tool that is enjoyable to use and enables them to not merely sell to their clients, but to collaborate with them.
Featured Tech for this Project:
Kubernetes
Vue
Elixir
Graphql
Google Cloud